2019 Women in Business Conference: Embracing Change
Join us for our annual half-day Women in Business conference held in cooperation with the University of Nebraska-Lincoln College of Business. This event is geared toward visionary men and women who want to discover the tools for success, make strategic business connections and leave feeling empowered and inspired to take action.
Thursday, April 4  |  8:30 a.m. to 1 p.m.  |  Country Club of Lincoln 
Individual Tickets (members only) - $65 
Corporate Sponsor (Table of 10) - $2,000
Lunch Sponsor (Half table – 5 seats) - $1,000

SCHEDULE:
 
 
 
8:30 a.m.
Registration and Breakfast
 
 
9 a.m.
Welcome–Wendy Birdsall and Dean Kathy Farrell
 
 
9:10 a.m.
Leading Through Change Panel

Dr. Kathy Farrell, Dean of the College of Business
Ava Thomas, Lincoln Journal Star
Christie Hinrichs, Tabitha

Leading through change can seem impossible, but as a leader, directing confidently in front of your team is critical to maintaining a trusting relationships. Learn from community leaders on how they navigated change in their own organizations and gain insight on how to not let the uncertainty overwhelm you and your team.

10:20 a.m.
Break and Networking
 
 
10:40 a.m.

Communicating Through Change - Sheri Irwin-Gish, Executive Director Communications, Marketing and External Relations, University of Nebraska-Lincoln College of Business

Change is coming – now what? Communicating impending change can be one of the most challenging, yet important parts of any shift in an organization. This interactive session will challenge you to work through various scenarios to better understand how to send clear, effective messages to avoid confusion, while also giving examples on ways to communicate these messages to your organization and beyond.    

11:50
Break and Networking
 
 
12:10 p.m. 

Lunch and Keynote – The Reason for Change, Dr. Donde Plowman, Executive Vice Chancellor and Chief Academic Officer, University of Nebraska–Lincoln

Too often, the word change is associated with negativity and fear. However, in an every evolving world, change is not only necessary but good. Good for organizations who are being pushed now more than ever to innovate and constantly ask the question, "what's next?". Hear why change may not be a negative threat but rather an exciting opportunity to push boundaries and encourage growth.

12:50 p.m.

Closing Comments – Wendy Birdsall and Kathy Farrell
Keynote Speaker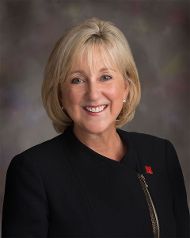 Donde Plowman, Executive Vice Chancellor and Chief Academic Officer, University of Nebraska–Lincoln, leads and oversees the university's academic enterprise, research initiatives, student affairs division, and new office of diversity and inclusion. This position reports directly to the chancellor, and is the responsible authority in the absence of the chancellor. Reporting to this position are 11 deans, three vice chancellors, a team of associate and assistant vice chancellors, and other unit directors. In 2015, Plowman received the "Inspire Woman of the Year Award," given by the Lincoln Journal Star. She has twice been named one of the 30 Most Influential Women in Lincoln and in 2016 received the Noddle Distinguished Development Service Award from the Nebraska University Board of Trustees in recognition of her fundraising efforts as Dean of the College of Business.