Just Released Book Chica, by Karen Duncan to Debut at Francie & Finch
Published:
Tue, February 19, 2019
Leslie Huerta
Francie & Finch Bookshop
4027810459
leslie@francieandfinch.com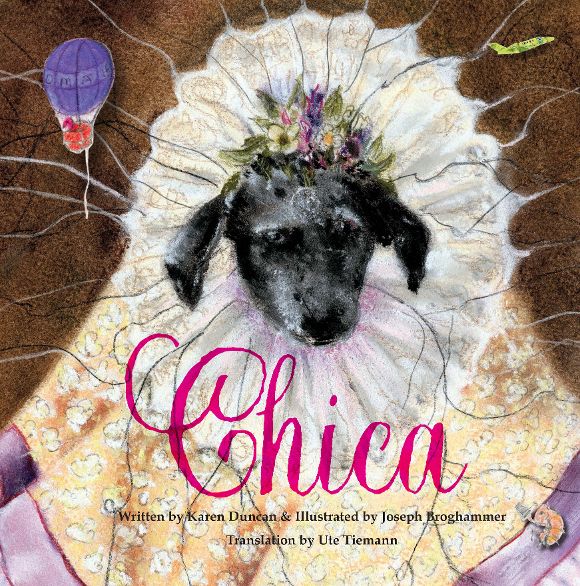 Francie & Finch Bookshop will host a book-signing event for Chica, a just-released children's book written by Karen Duncan of Lincoln and illustrated by Omaha artist Joseph Broghammer. The event will be Fri., March 1, from 4 p.m. to 6 p.m., with comments and readings by the author and artist at 5 p.m.  
    Chica is a tale told by a small gray dog about finding a lifelong friend in a Mexican town known for its ancient pyramids. Her rescuer, a kind American woman, offers the ragtag drifter food, baths, adventures and love. The book bursts with color and charm. Mr. Broghammer's whimsical illustrations and Mrs. Duncan's balance of fact and fancy are sure to bring this magical love story into the hearts of readers young and old. The text for Chica is dual language, with Spanish translation by Ute Tiemann. 
    Chica is Mrs. Duncan's second book. It follows a no-holds-barred, witty memoir titled Pieces of Me she wrote for her grandchildren.  The author is best known for the world-class art collection she and her husband, Robert, have shaped, as well as their service to and support of arts organizations and projects. She also teaches piano to Hispanic students. Her Floating Piano program provides students with pianos so long as they practice an hour daily. 
    Mr. Broghammer was born in 1963 and grew up in Omaha, where he lives today. He graduated from the University of South Dakota in Vermillion and completed graduate work at the University of Wisconsin in Madison. His works have been collected and exhibited by museums and galleries throughout the United States and Europe. Two of Mr. Broghammer's original Chica drawings will be displayed at the Francie & Finch event. 
    For more information about the book or March 1 event, please contact Leslie Huerta at 402-781-0459 or leslie@francieandfinch.com. Francie & Finch is located at 130 South 13th Street in downtown Lincoln. 
    Events to launch and celebrate Chica's publication will also be held at the following venues:
Clarinda Carnegie Art Museum, 300 North 16th St. in Clarinda, Iowa, on Sun., Feb. 24, from 1 p.m. to 3 p.m. 
Chapters Books & Gifts, 548 Seward St. in Seward on Sat., March 2, from 2 p.m. to 6 p.m. 
Our Bookstore, 1030 Howard St. in Omaha's Old Market Passageway on Mon., March 4, from 5 p.m. to 7 p.m.
El Museo Latino, 4701 South 25 Street in Omaha, on Sat., March 9, from 11 a.m. to 1 p.m. 
    The distribution of Chica is a project of the Clarinda Carnegie Art Museum, which was founded in 2013 by Karen and Robert Duncan as a gift to their southwest Iowa hometown. The museum coordinated with Anne Kohs & Associates of Portola Valley, Calif. on the book's publication.